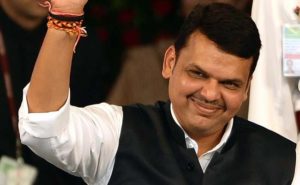 MUMBAI: Chief Minister Devendra Fadnavis features as a superhero called Jal Doot in a comic strip "Our CM Our Hero," released by Maharashtra's ruling party BJP as part of a social media blitz ahead of Mumbai's civic election in which the party takes on ally Shiv Sena.
As Jal Doot, Mr Fadnavis is the saviour of the state's drought-hit farmers, travelling on a cloud and pouring water into trains headed to the parched district of Latur. Farmers hail him as "Inder Dev" and "God of Rain."
Mr Fadnavis also features on a music video, released both in Hindi and in Marathi.
But what really has the Shiv Sena exercised is a series of mocking animated videos that feature its tiger mascot as the MGM lion. But this lion does not roar, it mews. The series, called "Khau Sena" or corrupt Sena takes a jibe at various schemes by the Shiv Sena, which dominates the current civic body the BMC or Brihanmumbai Municipal Corporation.
In one such video by the BJP, Shiv Sena chief Uddhav Thackeray beats drums, while his estranged cousin and head of the MNS or Maharashtra Navnirman Sena Raj Thackeray swings to the popular Marathi song "aami thakar, thakar, Janata la karu bejar" (I am a Thackeray and I am here to ruin the people). The video has shots of squalor and potholed roads in the city implying the Thackerays have nothing for Mumbai in their years in power.
Shiv Sena's spokesperson, Manisha Kayande said these toons are in bad taste. "Shiv Sena founder Bala Saheb Thackeray used his cartoons to spread awareness," she said, adding that the "BJP seems to be pursuing a hobby".
The BJP has released these videos and the comic strip on Whatsapp and they have been shared virally.
While the Congress, the Nationalist Congress Party and the MNS are contesting the BMC elections too, it is seen as a direct contest between the BJP and the Sena after talks between them fell apart over seat sharing. Uddhav Thackeray has said that fighting the BMC elections separately is the beginning of the end of the two-decade alliance; the BJP and Sena are partners in the Maharashtra government as well as at the centre. The campaign has been bitter, with both Mr Fadnavis and Mr Thackeray making personal attacks on each other.
Campaigning ends tomorrow and the elections to the country's richest civic body will be held on Tuesday, February 21.(Ndtv)