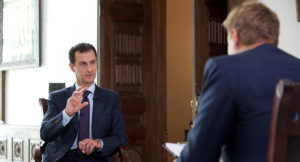 Warmer US-Russian ties under US President-elect Donald Trump's incoming administration would help to resolve the Syrian conflict, Syrian President Bashar Assad said in an interview with French media.
MOSCOW (Sputnik) — In response to a question whether he expects Trump's inauguration on January 20 to lead to the United States altering its position on Syria, which has previously been strongly anti-Assad, the president stressed that Trump had made promising statements on the matter.
"I mean the existing relationship, the improvement of ties between the United States and Russia will have a positive impact on the conflict in Syria," Assad said, as quoted by the RTL broadcaster.
Throughout his presidential campaign, Trump has been highly critical of current US policies on Syria, stating that they contributed to the creation of the Daesh terrorist group and that wiping out Daesh must be a priority instead of trying to remove Assad. Trump also made a number of statements on the need to restore ties with Russia and jointly counter terrorism.(Sputniknews)