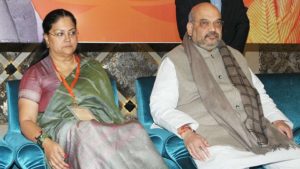 Surveys conducted by BJP in the state has revealed that out of the 160 sitting MLAs in a House of 200, about a hundred are not in a position to win again.
Nothing is going right for the ruling BJP in poll-bound Rajasthan. The ground level surveys conducted by the party's hierarchy in the state have shown the party in a very poor light and the party has feedback that out of the 160 sitting MLAs in a house of 200, about a 100 are not in a position to win again. Never before has the party faced such a situation when the sitting MLAs have become such a liability.
Adding to it, party supreme Amit Shah is at loggerheads with the Chief Minister Vasundhara Raje.
The survey conducted by the party through its trusts and involving an independent agency has come out with its report which was based on the outcome of the Gaurav Yatra which the Chief Minister took out to tell the masses about the achievement of the government. The Gaurav Yatra was the first indicator of the annoyance of the party workers which they showed during the rallies. It was in the Gaurav Yatra where the party workers blamed the sitting MLAs from the area for their non-performance. On the other hand, the legislators blamed the Chief Minister for making her administration bureaucracy-heavy which resulted in marginalising the role of the MLAs.
The survey conducted by the party outnumbered the list of the sitting MLAs whom the Chief Minister had decided to drop for non-performance. The Chief Minister's list had 62 sitting MLAs who were selected on the basis of caste lines and she was hell-bent on denying them the ticket and replacing them with someone worthier and capable of winning the election with an anti-incumbency factor that the Raje government was facing.
source: NH